Free virus protection: 10 ways BT's free software keeps you safe online
Online threats such as malware can cause problem, from damaging your computer to stealing your personal information, so it's important to install security software like BT Virus Protect which is free to all BT Broadband customers as part of your BT Extras and protects your home computer against internet threats.
[Read more: What is a computer virus?]
Developed by BT in conjunction with McAfee, the world's largest security technology company, it works with PCs and Macs and comes in either two- or 15-licence editions, depending on your broadband package. This means you can install it on two machines for free and if you need it on more, upgrade to a 15-licence for £4 a month (with the first month free).
On the internet, there are 305 new threats every minute, or more than five every second. These threats attempt to entice internet users into connecting to risky URLs (via emails, browser searches, etc.), or extract personal files and data on computers, including passwords. These are just some of the growing threats, and there are offline dangers too with files shared through Bluetooth connections and USB sticks.
Find out more about BT Virus Protect
10 ways BT Virus Protect keeps your computer safe
1. VirusScan
VirusScan runs in the background of your computer, continually monitoring in-real time for viruses, Trojans, tracking cookies, adware, spyware, unwanted programs and threats from email or instant messaging.
If it identifies a threat, it deals with it before it can do any damage, or lets you know if you need to take further action.
2. SiteAdvisor
Some websites include spyware, spam and online scams. SiteAdvisor checks for threatening websites and warns you before you interact with them.
3. Personal Firewall
Virus Protect has a built in-firewall which protects your network, acting as a virtual gateway for incoming traffic, letting in safe traffic and blocking incoming threats including hackers.
4. Parental controls
Protect your children from online dangers with Virus Protect's Parental Controls. Turn on age-appropriate searches, set web browsing limits and filter inappropriate websites. You can also chose to restrict access to specific websites and block access based on keywords.
5. Clean-up tools
Keep your home PC running at optimum performance with Virus Protect's health tools, including automated file, browser and browser history clean-up and disc defragmentation.
6. Spyware protection
Spyware is software that gets information from your computer without your knowledge and can make changes to your computer, slowing it down in the process. Virus Plus protects, detects and removes spyware and adware, as well as blocking tracking cookies.
7. Stealth mode
This mode allows you to use the internet anonymously, so your machine can't be seen by hackers.
8. Vulnerability Scanner
Companies like Microsoft, Google and Adobe continually releases software updates for their software often containing crucial security updates, so it's important to keep your machine up to date. Vulnerability Scanner installs the latest Windows updates, and those from other programs.
9. McAfee SystemGuards
McAfee SystemGuards monitor your computer for tell-tale signals of viruses, spyware and hacking activity.
10. McAfee Security Centre
Use this to review your computer's security status, check for updates and fix security issues.
How to get Virus Protect
1. Visit My BT and log in or sign up2. Scroll down to 'Use your extras, at no extra cost' and click 'Manage your extras', look for BT Virus Protect paneland click Get Started.3. Follow instructions to activate Virus Protect and begin the download.4. Download and install it, look for the McAfee icon in your system tray, which means you are protected.
Find out more about BT's other brilliant extras including free wi-fi and cloud storage!
*Ofcom Facts & Figures 2015
Free BT products to keep you safe online
BT Web Protect
BT Web Protect is a free security product available to all BT Broadband customers. It provides protection from viruses, phishing email and scams, by warning you if you are about to visit a dangerous website.
It protects all devices that use your home broadband including: computers, tablets and smartphones.
BT Web Protect works outside the home as well, guarding your device every time you log into wi-fi using your BTID.
It doesn't need to be installed, just activated.
Find out more about BT Web Protect >
BT Virus Protect
BT customers can download BT Virus Protect software. Powered by McAfee security, it provides anti-virus and anti-spyware protection multiple PCs or Macs.
Advanced security systems means you can shop securely online without worrying about phishing emails and identity theft, while SiteAdvisor uses a traffic-light rating system to let you know when it's safe to go online. BT Virus Protect  is free with all broadband products.
It comes with either 2 or 15 licences, this means you can install it on up to 2 or 15 computers or laptops.
To check which version you get, go to www.bt.com/mybt
If you get two licences but want more, you can buy 15-licence BT Virus Protect for just £4 a month with the first month absolutely free.
Find out more about BT Virus Protect here >
LastAudit is a free PC security scanner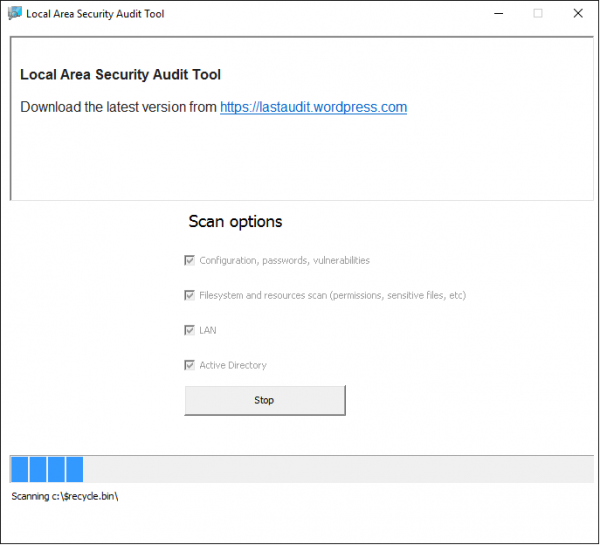 LastAudit is a free Windows security and vulnerability scanner, IT audit and forensic tool.
The program aims to detect and list configuration issues, weak permissions, browsing history, sensitive metadata, previous wifi connections, network resources, and Active Directory OUs, users, servers, shares and services.
The download is just 2MB, a single executable — just run it to scan the local PC.
LastAudit's interface is, well, basic. No flashy toolbars, hi-res icons or anything else, just a few checkboxes for your "scan options" and a "Start" button.
We accepted all the default settings, hit Start, and…the program crashed a few seconds later.
We tried disabling individual scan options — "Filesystem", "LAN", "Active Directory" — and it still crashed.
One last try, we cleared every checkbox, just leaving the core "Configuration, passwords, vulnerabilities" scan, and this time it worked. The program examined our system for a while, eventually opening an HTML report.
This started by warning us about potential vulnerabilities, some of which are obvious (whether you're running as an administrator), others harder to spot (whether Office has macros enabled, or PowerShell has execution permissions).
The report seems basic and incomplete in places. "AppLocker isn't running", it warned us (anyone likely to use AppLocker will know that already), before listing just two Registry startup programs.
Still, there are worthwhile details that you won't always see elsewhere. A list of processes listening to localhost might help you detect dubious software, for instance. And the program tries to take and display a webcam image, which might be interesting if you think the camera is disabled.
There's also a lot of forensic detail on how the computer has been used recently: browsing history (IE/ Firefox/ Chrome), Wi-Fi connections, IE searches, files opened in Explorer, connected USB keys, and the current text contents of the clipboard.
None of this is presented particularly well, and if you're already familiar with NirSoft's forensic tools then you won't be surprised or impressed.
But on the other hand, LastAudit does cram in a lot of functionality, and if your system can run the file scans, there's also lists of password files, outdated software, documents with sensitive data, files and folders with weak permissions, and more. Give it a try.
LastAudit is a free application for Windows 7 and later.
Wireless Working, Part II: Why cyber criminals love free WiFi
Free WiFi offered at coffee shops, hotels and airports should pique the interest of brokers – and not just because brokers and their clients can work remotely in these locations for free.
The technology does not come risk-free.
WiFi technology has for decades let computers talk to each other using radio waves instead of Ethernet cables. The technology allows airports, coffee shops, hotels and other businesses set up "hot spots" so customers can connect to the Internet without having to use the cellular data plans.
In Part I of this series, Dave Millar, business executive, security at IBM Canada, warned that when WiFi is used to let home users connect to their Internet router without wires, those networks are often not setup with information security in mind. Free WiFi hot spots are often even less secure.
In part III of this series, experts explain what brokers need to do to manage cyber risk when using WiFi to setup networks at work.
Normally, there is no encryption at a public hot spot such as a coffee shop, said Timothy Zimmerman, research vice president Gartner Inc., a research firm based in Stamford, Connecticut.
This is somewhat analogous to police departments using unencrypted radios to talk to each other. Just like a person with a police scanner can listen to police radio traffic, a hacker with a WiFi-equipped computer could in some instances send and receive information between other computers. For example, weak WiFi encryption is one reason why the parent company of Winners and HomeSense fell victim in 2005 to a data breach that compromised customer records.
When a public WiFi hot spot is an open network, meaning there is no special encryption, a hacker could potentially "listen to all the data that is being transmitted," said Christian Gilby, director of product marketing for Hewlett Packard Enterprise Company's Aruba unit. So anything an employee transmits using a public WiFi hot spot "is potentially vulnerable to somebody capturing that data," he warned.
This could leave corporate users vulnerable to what is known as a "man-in-the-middle attack," said Millar.
For example, when open access points are used, a knowledgeable hacker with his or her own WiFi-enabled computer could pretend that his or her computer is the WiFi access point to which a user is trying to gain access. This raises the risk that the user working in the coffee shop will log into the wrong network. Instead of logging into the corporate network, they are logging into the hacker's machine, which has "spoofed" the correct network. Consequently, the user who thinks he or she is connecting to the wireless access point of "Jim's coffee shop," for example, is actually connected to the hacker's computer, which is purporting to be an access point owned by Jim's coffee shop.
In contrast to public WiFi hot spots, a corporate computer network that uses WiFi often comes with a security technology known as WiFi Protected Access (WPA), first introduced in 2003.
TJX Companies – the corporate parent of Winners – was still using  "Wired Equivalent Privacy," or WEP, on some of its WiFi networks at the time it experienced its data breach in 2005.
Zimmerman recommends companies whose employees are working from public hot spots use a  virtual private network (VPN), which is intended to make data look like gibberish to someone who intercepts that data.